Energy Savings Project with Energy Performance Contract
The project concerns the measures necessary to improve energy efficiency in the headquarters of "Natural Gas – Hellenic Energy Company" at 7 Kifissias Avenue. The project is fully financed by Helesco SA and is being implemented through an EPC in accordance with the European QualitEE project's quality criteria under CRES supervision.
This office space occupies the 5th floor of the building and is heated – cooled, for the most part, by a central HVAC system. It was not possible to perform energy saving interventions solely on the fifth floor due to it being connected with the buildings central HVAC system.
Therefore, the energy saving interventions will concern only the equipment present within the specific space. These interventions involve: a. the division of the heating-cooling space (this space is marked blue in the following picture) into 5 zones with different heating-cooling set points, and b. the control system terminal operation (FCU).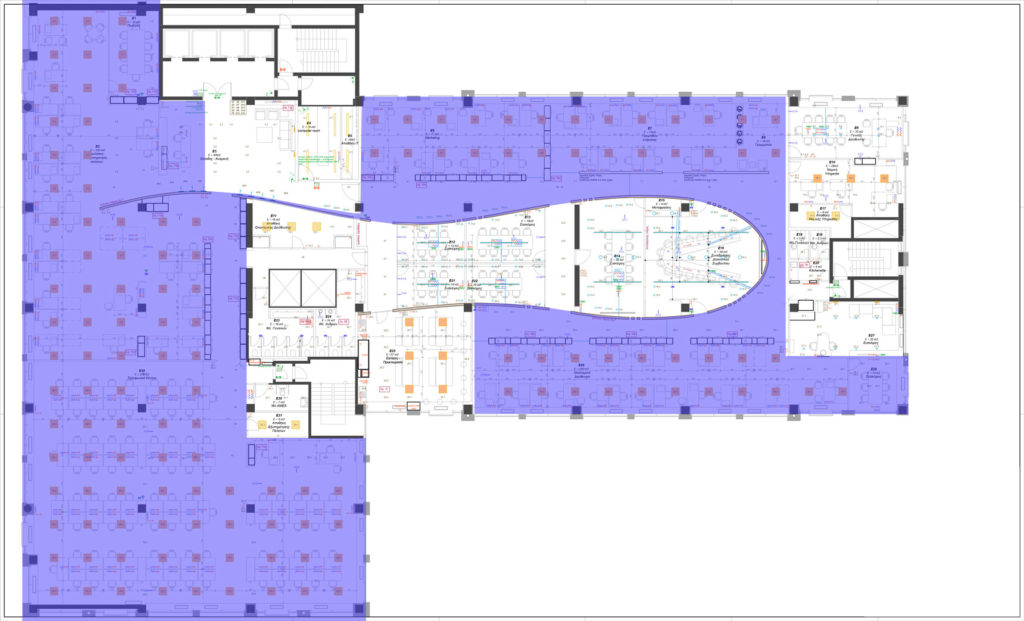 The control system includes 5 central thermostats with modbus communication. All controllers communicate with the central control unit and enable:
Temperature control per zone.
Temperature to be maintained within certain set points e.g. 18 ~22°C heating and 24 ~ 27°C cooling.
A common temperature to be set for every zone.
Temperature changes by resetting to the default point after a specified period of time.
Temperature recording
In this way, an annual energy saving of 20% is achieved as regards heating and 8% as regards cooling (4,754 l of heating oil and 147,789kWh of electricity consumption before the interventions, and 3807 l of 136.906kWh of electricity afterwards).